DiTech has been the leading and trusted partner for Technology Solutions, Managing Knowledge, Brand & Marketing. We know what it takes to make a difference in your business. Our quality-driven approach combined with a strong focus on process has helped several businesses achieve their goals.

You can call us taskmasters or perfectionists as we always go out of our ways to surpass your expectations. We guide you throughout the process, which is, in fact, a guaranteed promise from us. When it comes to meeting deadlines, we follow a pro-active approach & our prime focus always remains Cost, Speed, & Accuracy.

Formerly known as India Book House Process Solution (IBHPS), the company was a subsidiary of the India Book House, India's largest distributor of books and magazines, well known for its Children's magazines – Amar Chitra Katha and Tinkle.
In May 2010, IBHPS was renamed as DiTech Process Solutions and it became an independent entity. From there on it has been a remarkable journey of providing services to 100+ clients from 50+ countries.
In 2017, We formed a company called 3ClicksMaster Inc. for providing technology solutions and product development. 3ClicksMaster successfully launched 2 products famously known as "JMaster" (Journal Publishing) & "Bookish" World's first cloud-based Cross Media Publishing automation platform.
2019, we acquired eAthena Services Pvt, Ltd. to add in to our Publishing services segment. It has since given us huge foot print in the indexing and digitization business.
2020, we acquired The WAD Agency to penetrate into Branding & Digital Marketing segment. The WAD agency caters to 150+ clients in varied sectors across the globe.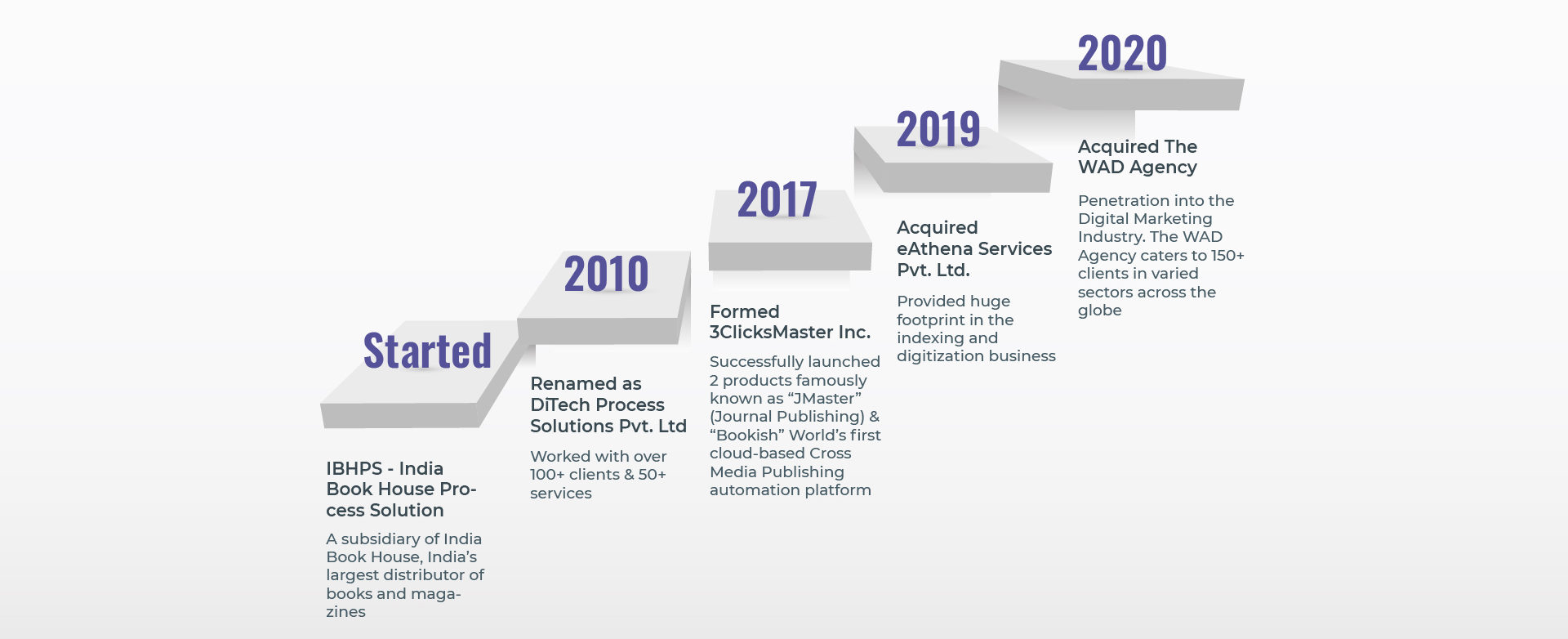 We Help You With The Best Strategies & Execution